Goldfinger
is on TCM tonight. And I feel like doing a review of all of the men who've played James Bond, complete with fun facts.
Sean Connery
as James Bond:
Fun Facts about Sean Connery:
He placed 3rd in the 1950 Mr. Universe contest
He had to wear a hairpiece in every James Bond movie, because he was balding already
During the filming of Never Say Never Again in 1983, he made the martial arts instructor angry. The martial arts instructor then broke Connery's wrist. The instructor? Steven Seagal.
George Lazenby
as James Bond:
Fun Facts:
Born and raised in Australia
Served in the Australian Army
Was offered a seven movie deal for James Bond, but quit after one movie, because he thought the series would die out in the 60's and 70's. Ha. Sucks to be him.
Was only in one Bond film: On Her Majesty's Secret Service (1969). James Bond actually got married in this movie. She dies at the end.
Personal Opinion:
Has anyone even HEARD of George Lazenby? I haven't. I always have to be reminded by my mother that he even exists when I'm thinking of all the actors who have played James Bond.
Roger Moore
as James Bond:
Fun Facts:
Before he did James Bond, he was in a TV show called "The Saint." There was a movie in the 90's made of it, with Val Kilmer. I've seen "The Saint." It seems rather like James Bond training.
Was the oldest actor to play Bond. He was 57 in A View to A Kill.
Succeeded Audrey Hepburn as goodwill ambassador for UNICEF
Timothy Dalton as James Bond:
Fun Facts:
Was in 2 James Bond movies: The Living Daylights and A License to Kill.
In 1997, starred in The Beautician and The Beast with Fran Drescher. He must have been really desperate for work...
Pierce Brosnan as James Bond: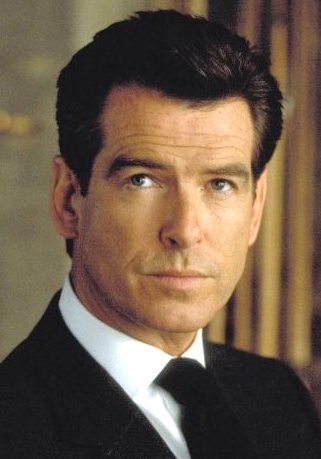 Fun Facts:
Is Irish by birth
Before he was James Bond, he starred in a series called "Remington Steele." He played a thief who solved crimes with a private detective. Like Roger Moore's "The Saint," "Remington Steele" (which I have also seen clips of) also seems like Bond-in-training.
Personal Opinion:
Pierce Brosnan is the sexiest of any actor who's played James Bond. The End.
Daniel Craig as James Bond:
Fun Facts:
Made his film debut in a movie called The Power of One, which we watched freshman year in Freedom and Responsibility class. Ha.
When he was a teenager, he was part of the National Youth Theatre in the UK
Personal Opinion:
While Daniel Craig does not have that suave look like James Bond traditionally does, he does have the most beautiful eyes of any actor who's played James Bond. I can't stop staring at them.